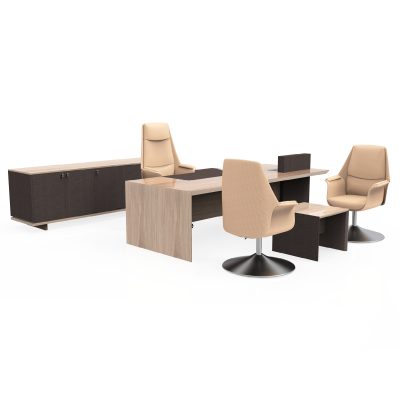 Description
OFS01783 | OFS01784 | A : Desk with L/R Hand Extension : Desk Top Mdf with Veneer, PVC Sponge Leather Pad on The top @ user side, Veneer End panel & 3/4 height modesty panel. Panel leg Painting With leather effect exposed and elevated on the top Extension ( Right or Left ) has 03 Drawers & 03 Doors, With Lock With adjustable Shelves inside, Doors & Top Painting With leather effect The Extension End contain a groove in relation to the Top, and the front.
B : Credenza is made of MDF with Veneer , Doors Painting With leather effect 04 doors with lock , handles & 01 adjustable shelf inside. Ends And bottom contain a groove in relation to the Top, and the front.
C : CFT03588 | CFT03589 : Square & Rectangular top coffee table with panel legs and center support. made of veneered MDF.
CNT02845 | CNT02846 : Round and Rectangular meeting table top is made of MDF with veneer. box leg with leather effect. top with 01 cable management.
Specifications
Model

Najd

material

Craquelure Paint, Melamine, MFC, Paint, PVC Edging, Veneer

Finishes

Engineered Walnut Veneer ( VNR00033 ) Stain NCB STD. Glossiness 10% Matt Finish / Leather Effect Craquelure Black – Brown Finish / Leather PVC Sponge Black.

Sizes

Desk : 2450 W x 1100 D x 770 mm Ht.
Ext'n. 1900 W x 600 D x 600 mm Ht.
Cred. 2400 W x 600 D x 780 mm Ht.
Cft. 600 / 1200 W x 600 D x 430 mm Ht.
Rnd MT. : 1200 Ø x 750 mm Ht.
Rect. Mt. : 2800 W x 1200 D x 750 mm HT.