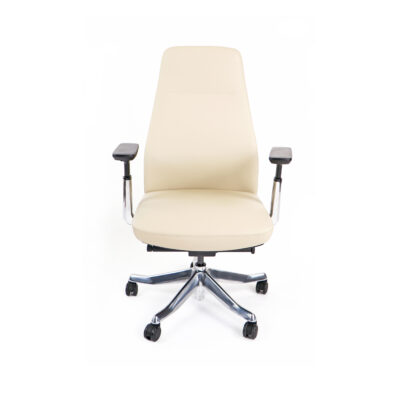 Muhanad
Muhanad Chairs  Whether you choose the high-back or mid-back option, our executive chairs are designed to enhance your workspace experience, providing exceptional comfort and support for extended periods of sitting. With their elegant design, versatile functionality, and premium materials, these chairs are the perfect choice for discerning individuals who demand the best in office furniture.
Description
Muhanad High and Mid-Back Chairs: Experience the epitome of comfort and support with our exceptional range of high-back and mid-back chairs. Designed to cater to your individual preferences and workspace needs, these chairs seamlessly blend ergonomic excellence with stylish aesthetics.
Unparalleled Comfort:Indulge in the luxurious comfort of our fully upholstered seat and back, crafted from premium leather in beige (LTH01291) or Black LTH01259. The 3D armrest with pad provides additional comfort and support for your arms, while the multi-functional mechanism allows for a customized seating experience.
Ergonomic Excellence:Our chairs are meticulously designed to promote optimal posture and prevent back pain. The high-back chair offers comprehensive support for your neck, shoulders, and back, while the mid-back chair provides exceptional support for your lower back.
Superior Durability:Built to withstand the rigors of daily use, our chairs feature a robust die-casting aluminum alloy five-star base and smooth-rolling PU casters for effortless movement.
Versatile Applications:Whether you're seeking a chair for your home office, executive suite, or conference room, our high-back and mid-back chairs seamlessly adapt to your environment.
Embrace Comfort and Style:Elevate your workspace with our chairs that combine exceptional comfort, ergonomic design, and stylish aesthetics. Enhance your productivity and experience the pinnacle of comfort with our high-back and mid-back chairs.
Specifications
Model

Muhanad

material

Foam, Legs Aluminum Alloy Chrome, PVC Leather

Finishes

Seat & Back : Black Leather – LTH01259
Seat & Back : Beige Leather – LTH01291

Sizes

HB : 700 W x 645 D x 430-1310 mm HT.
MB : 700 W x 645 D x 430-1110 mm HT.