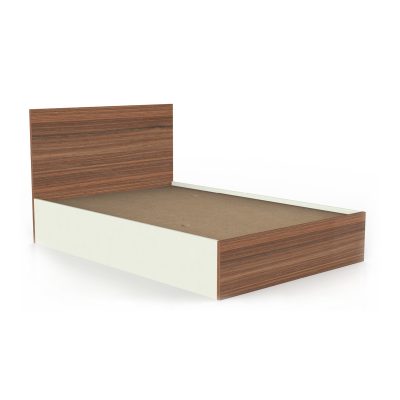 Description
Queen Bed with Headboard :Bed with headboard and footboard made of melamine MDF with PVC edging,Flooring made of MDF Plain with cut-out hole for hand grip. Night Stand : Bedside table with 2 normal drawers with plastic legs in wood finish with metal handles,made of melamine MDF with PVC edging. Wordrobe : Wardrobe made of MDF Melamine with 02 hinged doors, with 01 fixed & 03 adjustable shelves inside.BookCase : Upper with 02 adjustable open  shelves Lower unit with 02 hinged wooden doors , & 01 adjustable shelf inside.wooden doors with handles.Ends , Upper top,Center top in MFC Cairo Walnut Doors , & Shelves in Melamine Grey. Glass Cabinet : Cabinet made of MDF melamine with melamine edging 02 hinged doors with solidwood frame and clear glass inset. with Melamine adjustable shelves inside. TV Table : TV Table with open compartments and 2 drawers with normal runners. With plastic legs in wood finish. Writing Desk : Desk with Single pedestal has 02 normal drawers. With plastic leg wood finish Panel legs with modesty. Dressing Table with Mirror : Chest drawer with 3 drawers made of melamine MDF with PVC edging,provided with metal handles,with plastic legs in wood finish. Arm Chair : Chair Upholstered seat and backrest,with medium density fiberboard,Frame from solidwood Beech .

Specifications
Model

Bed Set, 10570

material

Fabric, Foam, Glass, Leather, MDF, Melamine, PVC Edging, Solidwood

Finishes

Melamine Cairo Walnut , MDF Melamine Grey.

Size

Q.Bed : 1520 W x 2000 L x 1000 mm HT.
Night Lamp Stand : 500 W x 440 D x 529 mm HT.
Wardrobe : 1000 W x 600 D x 1850 mm HT.
Bookcase : 900 W x 430 D x 1870 mm HT.
G . Cabinet : 800 W x 400 D x 1870 mm HT.
TV Stand : 1800 W x 500 D x 463 mm HT.