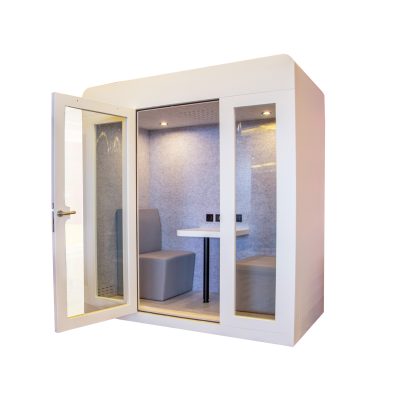 11972 | Booth
JFF phone booth that moves forward protection when taking phone calls in open spaces and office situations. Its protection structure offers fabulous acoustic assurance from troublesome sounds. This phone booth can be introduced without changes to existing structures or dividers, as well as reassembled in another area. In spite of the compact estimate of this phone booth, it is spacious sufficient to fit single stool chair or  JFF couche.
Description
Office Booth 11972 : 02 Persons Booth with foldable top & modular sofa inside,Top, ends, back and bottom made of MDF with Painted finish,Inside padded with acoustic panel,Wooden frame with glass hinge doors,Single Seater Sofa with fully upholstered with foam, fabric and solidwood internal framing.Door : Tempered Clear Glass 8 mm. thick. with wooden frame Inside wall panel: Accoustic Green ,Outside Ends panel , Top & Wooden frame – Color painted White,Single Seater Sofa finish : Fabric Green.
Specifications
Model

11972

material

Acoustic Panel, Acrylic, Fabric, Foam, MDF, Melamine, Paint, PVC Edging, Rubber, Wooden Panel

Finishes

MDF with Painted White / Acoustic Grey / SWD Frame Clear Glass Door Tempered,With 02 Exhaust Fan.

Sizes

Sofa : 650 W x 650 D x 1000 mm HT.
Booth : 2200 W x 1200 D x 2400 mm HT.